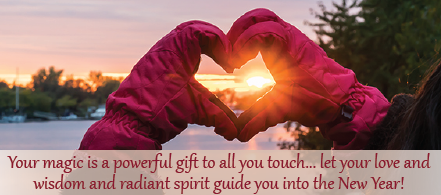 On this Winter Solstice, I am deeply grateful for all the ways nurses share their love and light in the world.
2019 has been a tumultuous year that is leading to profound changes, personally and globally. The positive impact of those changes are barely visible, but we can see the possibilities of a new world emerging.
2020 will be a time to further release what no longer serves life. It will take courage and humility to let go of the way things have been and empower a new world into existence.
As we live more and more according to the courage and standards of our souls, our attention carries the power and presence of the sacred. This magic is a powerful gift to all we touch.
Throughout our challenges, remember: We've been aware for a while now that we needed to prepare for this time.
If you are not yet ready, I encourage you to commit making your choices now according to what is MOST important to sustaining you and all of life.
I encourage you to consciously align with your highest values and standards; find your truest communities, and connect with your most authentic allies who are learning and growing in clarity, creativity, wisdom and power.
It is a thrilling and daunting time to be alive.
I wish you a joy-filled holiday season and a vibrant new year full of miracles and wonder!
With love,
Sharon Burch, MSN, APRN, PHCNS-BC
Director, HolisticNursingCE.com