Turn Your Course, Book, Articles, Video, or Toolkit into a Powerful Home Study CE Course

Generate Impact & Income through Our Online Platform & Generous Profit-Sharing Program

CNE Author FAQs
There Are 2 Ways You Can Profit through HolisticNursingCE.com
Have your continuing nursing education (CNE) course approved, hosted, and marketed by HolisticNursingCE.com.
Promote HolisticNursingCE.com's CNE courses and earn affiliate commissions.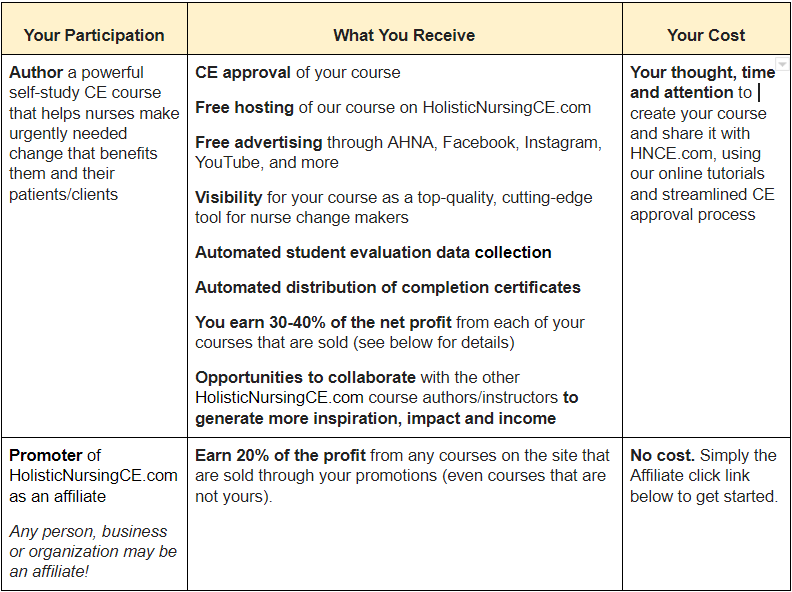 Details:
Definition of terms

CE = Continuing Education (a generic label for any profession)
CNE = Continuing Nursing Education (specific to nursing)
CEU = Continuing Education Unit (1 CEU = 10 CE contact hours)

How is HolisticNursingCE.com approved as a CE provider? HolisticNursingCE.com is a project of Awakening to Grace, a 501(c)3 nonprofit organization. Awakening to Grace is a CE provider approved by the California Board of Registered Nursing, provider #17389.
What states accept these courses for license renewal? All courses sold on HolisticNursingCE.com are accepted in all 50 states. HolisticNursingCE.com courses are not currently approved by the American Nurses Credentialing Center (ANCC), but they meet the same criteria as the ANCC requires.
Do these courses meet the AHNCC holistic nurse and nurse coach board-certification and recertification requirements? YES
What types of CE courses do you approve? At this time, HolisticNursingCE.com approves only online self-study CNE courses. Additional types of CNE courses may be approved in the future.
What is a self-study course?

Self-study courses are designed to allow participants to learn at their own pace, and the learning content is the same for all participants.
A self-study course can include many forms of learning material, i.e., written text, video, audio, journal, etc., and often combines two or more of these forms.
Participants work individually and usually do not interact with an instructor or with other participants.

How do I begin?

The first step is to request our free CNE Author Starter Kit click here.
The content of your CNE course must be relevant to the practice of nursing and must enhance the knowledge of the registered nurse at a level above the minimum required for licensure.
Courses must teach evidence-based knowledge and/or skills to improve the practice of nursing and empower nurses directly and/or indirectly in providing patient/client care.

Are there certain guidelines for submission? HolisticNursingCE.com accepts these types of content in its courses:

Content related to the evidence-based knowledge and/or skills for the practice of holistic nursing, including basic, intermediate, and advanced levels of content that are informed by the physical, psycho-spiritual, social, behavioral, environmental, and integrative health arts and sciences.
Content may include any topic related to the holistic health, safety, and actualization of the whole person that are included in the Holistic Nursing Scope and Standards of Practice. Examples include but are not limited to: human responses to spirituality, sexuality, birth, health, illness, dying, and grieving; foreign languages (conversational); therapeutic interpersonal communication or relationship skills; the environment, pharmacology, etc.
Content in nursing administration, management, education, research or other functional areas of nursing relating to indirect patient/client care are also acceptable. Examples can include: Statistics, quality assurance, legal aspects of nursing, stress management, assertiveness, prevention and reduction of workplace violence; teaching multi-ethnic students and staff, retention of nurses in the health care delivery system, current trends in nursing and health care, establishing a professional nursing business or independent practice, and publishing for professional journals or books.
To be approved for CNE contact hours, your course must be designed for nurses as the target audience. Courses that are designed for the public are not acceptable as CNE.

Am I qualified to design a self-study course? Course authors may be registered nurses or non-nurses with a bachelor's degree or higher, and they must provide validation of their experience in the subject matter of the course within the past two years.
Will I retain the rights to my program and be able to offer it in other places?

YES!

Authors retain all copyrights to their learning content. However, your course is only approved for CNE through HolisticNursingCE.com. You can apply with other providers to have your course approved by them, but our approval does not extend beyond our website.
Conflicts of Interest: HolisticNursingCE.com will make sure you clearly understand what this term means and how to avoid it in your CNE course, even if you are using a book you wrote as part of the course's learning materials.
What if I already have CE approval for my course? If you already have a CNE course approved by another CNE provider, we can probably approve it very quickly, giving you an extra pathway to income.
How long does it take to launch my course on your website? If your learning materials are already developed, it's possible to turn your book, video or course into an approved CNE course in less than 30 days.
How long will my course be approved for? Courses are approved for 2 years.
Can I renew my approval at the end of 2 years? When approved courses have received satisfactory ratings by the participants (an average of at least 8 on a scale of 0 to 10), then the author can easily renew the course approval for another 2 years. If the average participant rating is less than 8, HolisticNursingCE.com will work with you to improve your course.
What does HolisticNursingCE.com do for me? As an approved CNE provider, HolisticNursingCE.com is responsible for each course it grants continuing education contact hours. This includes, but is not limited to assessing, monitoring and ensuring the quality standards for instructor qualifications, advertising content, course content, certificates issued, record keeping, and all other related matters.
Can I offer an advanced practice pharmacology course? If you are planning to offer an advanced pharmacology course, contact

[email protected]

to be sure your course meets additional requirements.
How Does the Collaborative Profit-Sharing Marketing Work?
HolisticNursingCE.com will showcase your CNE course on its homepage for the first 60 days after it is launched. After that initial 60 day period, courses will be featured on the homepage based on popularity and space availability.
Authors are encouraged to actively market their course whenever and wherever they see fit.
HolisticNursingCE.com will promote itself and your specific course through the American Holistic Nurses Association's marketing channels, Google ads, Facebook ads, Instagram, YouTube, and other media as it develops.
Authors receive 30% of the net profit after the payment processing fees (e.g., credit card, debit card, or PayPal) have been paid. Typically, these fees total about 5% of the price of the course. That means the net profit is approximately 95% of the price of the course.
*Authors will also start receiving an additional 10% Author Bonus as soon as they submit four 800-1000 word blurbs of content related to their course's topic. HolisticNursingCE.com will use this content to promote the author's course in social media and/or its blog. This is an optional author activity, but it will greatly increase the sales of the author's course.
For illustration, here is an example based on a course that's priced at $100.

For a $100 course, the 5% fees on the sale = $5, which means there is $95 net profit.
30% of the net profit is paid to the author, so 30% x $95 = $28.50 goes to the author
If the author has already qualified for the Author Bonus (see #5 above), then the author gets another 10% of the net profit. 10% x $95 = $9.50. Now the author's total income from that course sale is $38, which is 40% of the net profit.
The affiliate whose unique link led to the sale will receive 20% of the net profit. If the affiliate is the author then another 20% of the net profit goes to the author. 20% x $95 = $19. Now the author's total income from that course sale is $57, which is 60% of the net profit.
Following the calculations above, if the author sells that one course to 20 students, s/he will earn $1140. If s/he sells that one course to 50 students, s/he will earn $2850, and if s/he sells that one course to 100 students, s/he will earn $5700.
Note that authors can offer as many courses as they want to through HolisticNursingCE.com, and the courses that have the greatest perceived value to the participants will command the largest prices per course.

Authors and affiliates are paid on the first day of the month after a sale has been made.
HolisticNursingCE.com will offer its audience the best ways to learn the cutting-edge skills they need, while not duplicating the content across multiple courses.
If a new course is available that has a topic that's similar to a course that is already listed on HolisticNursingCE.com, but the new course might deliver its content more effectively or from a different viewpoint, then the new course will be accepted for a 1-year trial run. If the first course experiences a reduction in sales during that year, then Sharon Burch is available to assist the author of the first course in improving it.
Let your CE course authoring process be easy. Click here to get started with our CE Course Author Start-up Kit.